Another Canadian inspired name could be "Maple"
I love hearing about the meanings behind the names people give to their vehicles. They are always so unique and interesting!
Well I bought a second hand van (Vivaro) from a Painter.
He's name and company details along with a graphic. I kept the graphic and the name. Since this moment my van is called Gunther

We called it Herbert because was born/imported from Germany. Was the best German name I could think of ahah
I named my bus after the original owner because she took such good care of my 1973 VW bus. Also there is still a pack of her American Spirits in red leather case in the glove box.
ANN. Ann the Van. She is amazing!
Greetings!
Most of my vehicles don't really have names, but get called many things from time to time, some not so flattering. My current van of many years has never heard anything but praise from me…
Cheers!
We were watching a movie that really hit us,
"Captain Fantastic" and their bus is named Steve. Our build is a 1975 Chevrolet surfer van, and it just fit- insert porno mustache and bad 70s shag carpet… Already removed

Our Van is Canadian, and she's a Zion. Her name is "Z" but pronounced Zed. It's a play on how its pronounced in Canada (and a little Pulp Fiction for those of you who know it )

There's no wrong answer it will come to you
I call my van the coffin, because there's no airbag and no deformation zone. So I know that the first frontal impact with anything will be the last for me. Several weeks after I named my van like that, the previous owner told me that it was used as funeral car originally. What a coincidence!
We watched the serie "Gilmore girls" with my wife and the name Poppy jumped on us

It's their toaster that's called like that

Poppy is a very cute word in French, maybe in English it looks a little ridiculous

Ha! We just named our bus Buddy. Didn't know it was Canadian?
I'm naming mines buddy too after the willie Nelson song.
I named my van Rolling Stone (as in "gathers no moss " not the band lol) cos I was always moving on

Yeah! Most husbands are careless by birth,

, it isn't a new thing. But yes, I am bad at giving names. Tough job.
We chose HOWie…she was our "Home On Wheels" and it just fit. She was a Toyota Hiace that we drove 8000kms around Australia.
imo, firstly you need to finish customizing your trailer, and only later to think about name - since when you see your baby, the name could come into your mind quickly!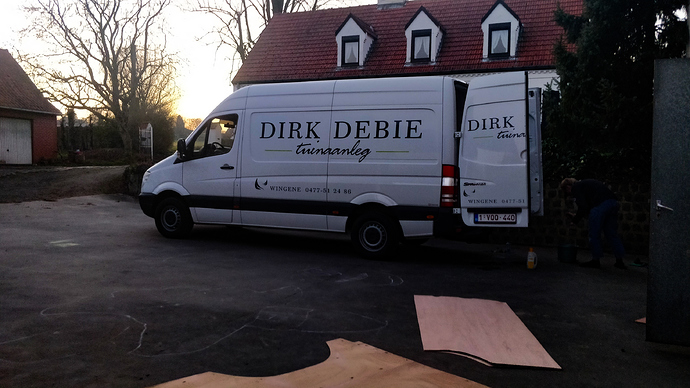 this is how our van looked like in when we bought it., Dirk Debie was the name of the previous owner, wich was a garderer. we kept the name 'Debie'


I would have to agree with the many who have said you should let it come to you, however you can do that and also think about it with some structure.
When I was thinking about what I wanted to name my truck I wanted to give it some meaning, and so the question I asked myself was what do I want to do with it? Now that doesn't have to be your starting question, but try to ask something to get your thematic juices flowing. Eventually I came to the conclusion that I wanted to ride off into the sunset, and so I named my truck Eastwood.
So my suggestion for you would be to ask provocative questions and take things from places you love and that others love to turn it into something personal and you can't go wrong!