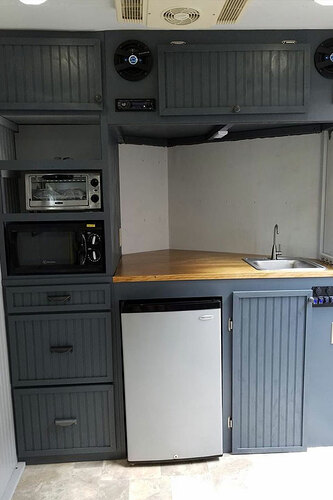 hey guys! i posted in the newbie section earlier but thought id start this thread. quick background, I live in Whitehorse Yukon, Canada next to Alaska. this is my 28' enclosed snow king that i use both summer and winter. summer/fall for hunting trips and winter for hunting/snowmobile trips. it has 3 bunk beds, a smaller propane furnace, a microwave, and some outlets. The previous owner did his own wiring in the trailer. right now there is a shore plug outside that powers the microwave and outlets inside. the batteries that came with the trailer died this winter so I just installed 2 12v 105ah deep cycle motomaster nautilus AGM Group Size 31 Batteries. these power the interior lights, propane furnace, and exterior lights. It does not have any converters / chargers / inverters. I don't believe the previous owner had very much wiring experience (nor do I) as both my truck and shore power do not charge the batteries when plugged in. Another note, 99% of the time I am either in remote areas and only have a Honda 2000w generator. Not often do i have shore power.
my idea for this trailer is to spend some time on it this summer. rewire most of it while adding in a small kitchen area up front, as well as the install of a new propane monitor. It has a small RV propane furnace at the moment but has a hard time keeping the trailer warm at outside temps of -10 Celsius. I purchased a second hand propane monitor for my 600sqft cabin a while back, but never installed it. if possible, id love to install it in the trailer as i know it would have no problem keeping it warm at very cold temps. i dont have the model number on hand but ill get that info soon. I believe its big enough to easily heat up 1000sqft home, so powering it also could be a problem. I believe I could keep everything the way it is as far as outlets go, but I think the best place to start is some rewiring at the batteries.
The new electronics I would like to add would be a 1500w 12v water heater (amazon) and water pump. Or if anyone has any recommendations on a small efficient water heater (1.5 - 2.5 gallon) I'm more than open to options!
So in conclusion, I want to install and power a small water heater / water pump, some more ceiling led lights (as well as the previously installed led lights), microwave, new propane monitor, and my outlets. with the possibility or option to install a small efficient mini fridge in the future.
It would be nice to have the batteries in the trailer charge from shore hookup, as well as my truck when transporting.
Does it make sense to have the microwave, water heater and anything 110 on shore hookup and the batteries can power the furnace, water pump, usb outlets and battery monitor? Can a 1500w inverter be installed to power the microwave and/or outlets so a guy can watch movies when no shore power is available?
I added a photo of the wiring diagram I got from Far Out Ride. Im sure the diagram isn't perfect for my setup but I believe its a good starting point. I know it is a big ask, but basically I'm looking for a wiring diagram I can follow for my setup/needs.
I'm very green when it comes to wiring and any patience and help is greatly appreciated!
Thanks guys,
Ryley