This now past summer we drove Betty to Yellowstone from Tampa. I decided yesterday that she needs a update!!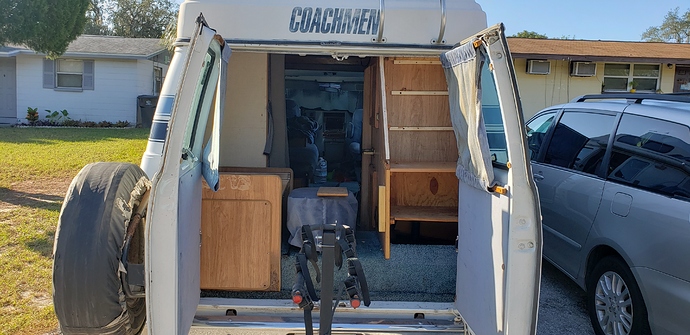 Greetings & Welcome!
Insulation is a very complicated endeavor, and renovations are usually a poor idea.
If it's the original insulation scheme, it CAN NOT be improved upon, keep it. It is designed to properly deal with condensation, and prevent mold. The same goes for carpeted floors, they are designed correctly, and replacing them with hardwood or vinyl creates more problems than it solves.
Moisture problems are real, and the original floor, walls, and ceiling were designed to combat these problems successfully, just like was done in passenger vans. Messing with the original design typically results in murdering your camper van.
All this "gut it and start over", "remodel it", or "upgrade it" advice is horrible advice, and the only reason it get's pushed is the people pushing it are out to make money from your mistakes that they're encouraging.
Remodels typically kill the resale value on these things too. If you don't like the layout, you are usually much better off to trade rigs. If you want something that unusual, buy a window van with a decent interior, remove the rear seats, keep the floor, walls, and ceiling intact, and move your new camping interior in and secure it.
Cheers!
---
"Those who ignore past mistakes are doomed to repeat them." ~ Van_Dweller
Yea little too late for that, since I already gutted it. I was looking for advise , not being told that I messed up buy remodeling it.
@Van_Dweller but I still can respect a fair warning. This isnt for sale , never gonna be , its a classic thats gonna be a around for a while. Basically a gift to my family. You made some strong arguements , however , Iam on this forum to do the opposite of what your suggesting specifically.
Greetings!
Well, the good news is that I'm well versed in rebuilding ones that have been gutted too. My current van that I have been living in for the last 11 years was gutted down to the bare metal when I bought it.
There should have been a thick felt pad under the carpet, did you save it? These are really important, and getting more and more difficult to find.
A picture of the van in it's current state, and maybe one of what all you kept could help a lot, or at least a listing…
Cheers!
---
"Those who ignore past mistakes are doomed to repeat them." ~ Van_Dweller
Greetings!
What kind of shape is it in mechanically? To me, this means everything that makes it road worthy, including front end, steering, suspension, rust etc. Is your wiring still intact for your brake/tail lights, license plate light, gas gauge, fuel pump, abs brakes, etc. etc? Also be extremely careful of any hot wires that may have been disconnected. Did you mark the wires? Do you have an onboard generator?
Personally, I like to make sure they're in tip top shape mechanically before I put too much effort into the interior. Reliability is of the utmost importance.
Cheers!
---
"Those who ignore past mistakes are doomed to repeat them." ~ Van_Dweller
Seems reliable , we drove it from Tampa to Yellowstone this summer ( over 8k round trip). I have spent a considerable about making this truck road worthy. Now upgrading the interior is the only way to enjoy the high over head of mechinical repairs past. Good news not much to repair mechanicaly. Here is a photo of the tear out so far. Wires are intact and labeled for the reinstall.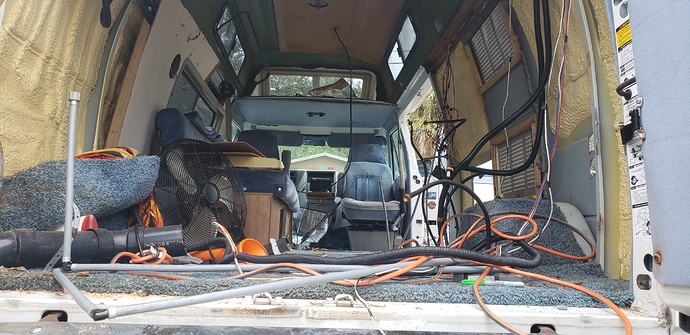 Greetings!
Glad to hear your wiring is intact and labeled! Doesn't look to bad…
Have you figured out a floorplan yet, keeping the already installed vents in mind? Determine what amenities you want, then juggle them, keeping the vents in mind, until everything fits the way you want it.
I like microsoft publisher for playing with floor plans, 1" = 1 foot in real life. Makes things pretty easy.
Cheers!
---
"Those who ignore past mistakes are doomed to repeat them." ~ Van_Dweller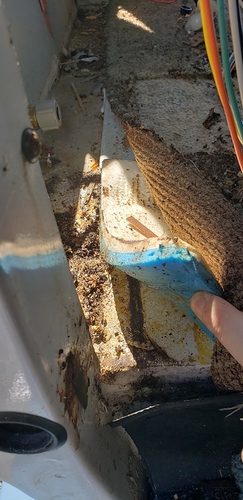 Not looking too good on that felt vapor barrier thing. But basically Iam looking to see what I need to do about insulation and vapor barriers/ issues.
Iam gonna keep the access holes in the camper for a pull out kitchen area basically. Cause we really dont need the stuff we tore out. But a couple holes will still have to be patched we think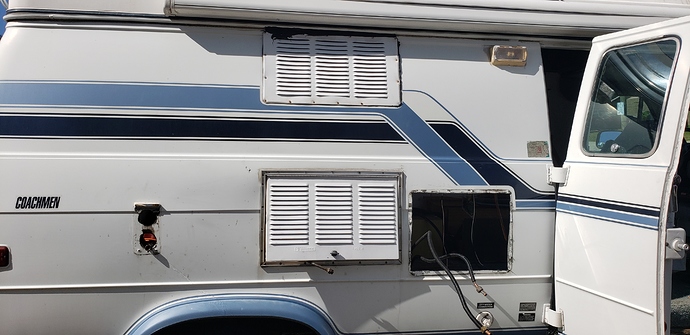 Greetings!
Many people often regret pull out kitchens… We all wind up in bad weather eventually, sometimes for weeks. Sometimes people get sick too, and can't go out. Is there a way so you can make it usable from inside too?
I solved this dilemma by having an empty counter top, on which I can use for a workspace or a desk, then my camp stove, or my double dishpan sinks can go on top for my kitchen as well. Both can also be used outside if the weather is good, without any duplication in equipment.
It's always a good idea to consider ALL possible scenarios weather, breakdowns, and everything else when we are contemplating our designs. Even something as simple as wind, or bugs can make being outdoors undesirable.
Cheers!
---
"Happiness only comes before money in the dictionary." ~ Smilin Sam
We will most likely use a toaster / hotpot inside the camper and never cooked inside. To many fumes in a enclosed area for our liking. Plus we have a awning outside over that area and we already use a fold out table in that exact place to cook with for the past several years. We have put alot of thought into exactly what we want and would like help accompling our goals.
For that rust you will really want to grind it all out and treat it. If you can clean it, dry it, and seal it well then that felt thing won't matter one bit in terms or waterproofing. The main goal is that you keep water from sitting on the bare metal. Also rust is like cancer catching it and treating it early makes all of the difference in the world. A lot of the people in in the westy world seem to be using this stuff: https://www.gowesty.com/product/paint-prep-/4386/por-15-super-starter-rust-preventative-kit - I sold my vanagon before I tried it out and it's kind of expensive. Grinding through that rust though is going to be a huge undertaking. Good luck with that one. Another reason these vapor barriers fail is cause they are not air tight and they have to be. That is hard to do when things flex, bend, shake and vibrate apart. I think a few good coats of epoxy and paint will do well for that in just about any situation. Do that then add some insulation that does not hold water.
Yea seems mimicking the design with modern materials will be the best plan. Was gonna use spray foam , but decided against it any large quanities for various reasons. Really greatful for the advise so far , I had wooden foors in my heart . But that dream seams to be fading.
Not sure how important floor insulation is, for heat at least. We are using wool for the walls (https://havelockwool.com/van-insulation-products/) and as of now I think maybe some of the xps for the floor. This seems to be the popular choice for moisture control and sound deafening as well.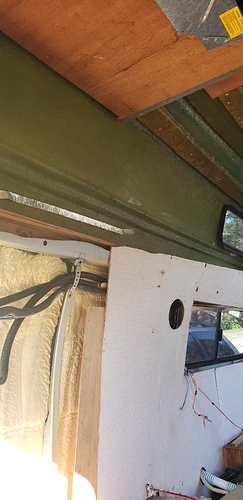 Current insulation sutuation. Closed cell on walls ( orignal design) and nothing on fiber glass roof ! It was paneled up the sides with a air gap , so was gonna add some faced poli board and just panel over it leaving a air gap at the top for the air cavaity to breathe. Ia. Gonna do the very top with panels and spray foam undeneath to fill the uneven spots.
So this truck is gonna live in florida most of the year and will be in almost %80 humidity. So really just trying to insulate enough to help hold the cold air in and stop the topper from being a fiberglass radiant oven. I was thinking of using 1/2 polyiso board with a radiant barrier face out. I was gonna place reflectx on the back side and leave a air gap between the reflex and fiberglass hull. Any advice is apprecaited !
Greetings!
Insulation only slightly prolongs the inevitable, and comes with the drawback of potentially trapping moisture. Shade works better than any amount of insulation, and it's free.
I've spent the last two summers South of Miami in high heat and humidity in a hightop window van with no added insulation. My van does not have factory air conditioning or tinted windows. By parking in the shade, my van never gets warmer than the outside air, and if that is too warm to be comfortable I have multiple ways to beat the heat & humidity, even when shade isn't available.
If I am camped out inside my van or driving, I will usually use my swamp cooler. This can keep my van colder than what is comfortable, and since it is of the indirect type, it also dehumidifies the indoor air. It draws under 1 amp @12v on low, and just under 2 amps on high, so it is also very energy efficient. A friend even built one that runs on essentially candle power, that required no electrical power at all. I think he's running it on vegetable oil.
My next favorite line of defense for either hot or cold is a collection of 12v peltier powered thermo-electric goodies. They work by circulating either hot or cold liquid through them and are very effective. I have seat cushions, blankets, and a jumpsuit that uses this technology. They are all USB powered, and very low energy usage. If you're not careful they can give you frostbite in the middle of the summer. Luckily they have thermostats.
My previous line of defense was evaporative cooling clothes and accessories. They worked well, and only required water to power them, but the peltier powered ones have them beat.
I used to work construction in all types of weather, and keeping your body at the right temperature was essential. Today, I both live and work from inside my van, so keeping it comfortable regardless of the weather is important to me.
Cheers!
---
"Find a need and fill it, life's little secret to success and financial freedom." ~ Van_Dweller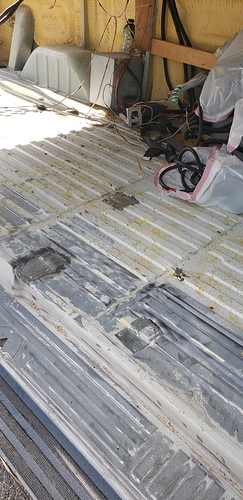 took your advice to paint it . Shoukd be ready tomorrow for prime and paint! Thanks for the solid reminder ! Not as bad as it seemed.
@Bretly