So to give a better idea of my system…
Solar Panel Kit | $1369.99

6 x 195w Panels
Combiner Box
60a Controller

4 x 200ah AGM SLA Batteries | $1,391.96
Inverter w/ Charger | $598
Misc Wiring/Cables, Breaker Boxes, Etc | $200-ish
Something else I'm forgetting… - $?
(None of the below are influencer links)
Solar Kit
https://www.amazon.com/gp/product/B07BNKDMXK/ref=ppx_yo_dt_b_search_asin_title?ie=UTF8&psc=1
---
Batteries

---
Inverter

---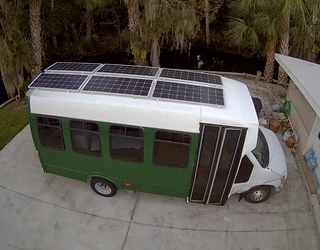 That's the panels, haven't gotten any shots of the electrical otherwise just yet though because that's what I'm currently working on.
But, I did have also have a "general usage" question. My buddy that is helping me set this all up is a professional electrician, but for buildings, and normally doesn't work with solar. He's telling me, that despite all that crap I bought up there, that I might not even be able to run this fridge below without depleting my batteries.
The only things I'm even trying to run are,
Fridge (120v, 1 amp draw)
Shower Pump / UV Filter (When in use | 12v Pump / 110v UV)
A Fan (120v most likely?)
Charging Various Electronic Things (12v)
I mean… for $150 I could have bought a really good cooler and just filled it with ice once a week… Lol. That's why I say looking back, I'd rather have just cut solar. :\
Fridge
https://www.homedepot.com/p/Vissani-7-1-cu-ft-Top-Freezer-Refrigerator-in-Stainless-Steel-Look-MDFF7SS/313489925?source=shoppingads&locale=en-US&mtc=SEM-VF-F_D29A-G-D29A-Multi-Generic-NA-NA-DSA-NA-NA-MajorAppl_DSA_No_Audience&cm_mmc=SEM-VF-F_D29A-G-D29A-Multi-Generic-NA-NA-DSA-NA-NA-MajorAppl_DSA_No_Audience-71700000032417787-58700003839021362-39700030730043793&gclid=Cj0KCQiAqdP9BRDVARIsAGSZ8Al3kZ2sstqtvUR-FVeLAWEFVyWQoOwO6z1BGjIcE-SzV5w3Wtr9ZrEaAvNuEALw_wcB&gclsrc=aw.ds