Dear Community,
I am at the initial phase of my camper van conversion in China, in which I am planning to live and work together with my wife. Camper vans in China are not popular though they produce any kind of devices and gadgets one might search for this purpose.
I am not bad at DIY and woodwork but my electric knowledge is limited. I have been researching a lot in the last weeks to plan the wiring diagram that you see below. Despite my best efforts, I am sure there are mistakes that I cannot see and I hope some more expert eyes will help me avoid potential disasters!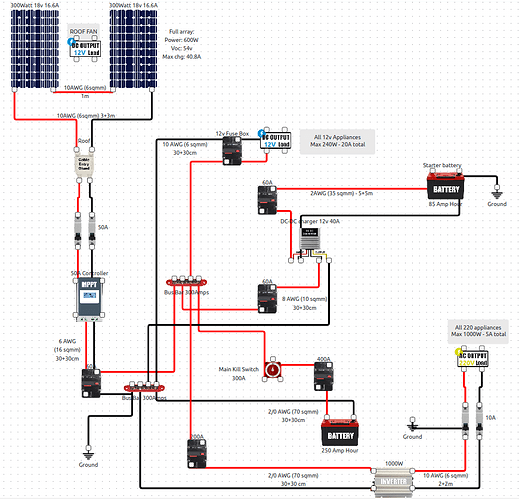 (I hope the text is readable)
I would greatly appreciate any help or suggestions, especially in terms of cable and fuse sizes. What mistakes can you find? (The simple software I used didn't have many icons, so the 12v fuse box looks like a normal breaker.)
Also, can I just use (magnetic) circuit breakers instead of fuses a bit everywhere (except the 12v box)? I also don't understand why I should use one or another kind of breakers/fuses so I would simply go with the circuit breaker kind you see in the icons.
Thanks and safe travels!