Hey everyone - I'm Jeremy riding in TheWhiteElephantx on IG. I'm 31 years old and traveling solo around the country photographing scenic places, wildlife while filming to make a documentary film.
A question that gets asked often is the size and space on whether or not I like the bus or could have done a van & also how I find places to stay - be safe.
First things first - what do you need? Have you done a test run or know of someone with a bus - trying out camping even in a SUV can help you decide if a bathroom/shower is something you really need. For me - I'm comfortable in the woods, finding a bathroom when near by - using the ocean, lakes, outdoor showers or planet fitness to shower so that space to have one wasn't essential. I do however have a pop up toilet for emergency and as a guy - I can use a gallon jug if really needed. I do think the top of toilet I got for $20 at Walmart is great - not that I'll ever use it - but let's say you get food poisnioning and it's a rainy night - you don't want to be face down in the dirt all night.
As for size, I love the headroom, I also have a lot of photography equipment and a lot of things I like to do - paddle board, snorkel, & hike. So a blow up paddle board, and all these things - outdoor grill - fits. I plan to be on the road a long time so having room to fits everything for a wide range of activities and locations - whether/temps is a plus. I also need to charge my equipment regularly - so a large goal zero connected to solar panels as well as deep cycles and an inverter helps with that. I don't use a fridge - just a cooler which if you did a van - that would save space too - I also have a couch, not really needed, my kitchen has a large water jug and having a dog - I need a lot of extra water for both of us.
A van would also has its perks. The bus isn't allowed on every highway, if visiting friends - some complexes don't allow it & you always need to be aware of the height factor. A van can be make very comfortable and driving a lot easier - especially if you're two people - note the bus has only 1 seat and as much as you'd think the 2nd person is comfy on the bed…most people like to sit next to the driver.
But in short - I love the bus, it does stand out and often people are taking pictures of it, it's noticable where ever you are and you can't hide well. On the flip side - I feel safe, it's big and you can't see inside easily - I can walk around, cook, and my dog can stretch his legs. + I feel accomplished that I've made use out of a old bus that has now been repurposed.
As for how I get around…I use ioverlander app - when driving long distance - I won't hesitate to sleep at a rest area or Walmart… it's not always about the current night but the destination and getting there safely. Taking your time is a great feeling knowing you don't have a real schedule or exact time frame. I also use google earth to check what the landscape, roads - whether or not it's surrounded by hotels or RV parks.
If you're new to bus life or van life and have any questions about your build - I do my best to answer every question - I've done a number on my site roam4wild - but shoot me a DM if you have any others.
Be safe, please respect, clean up, recycle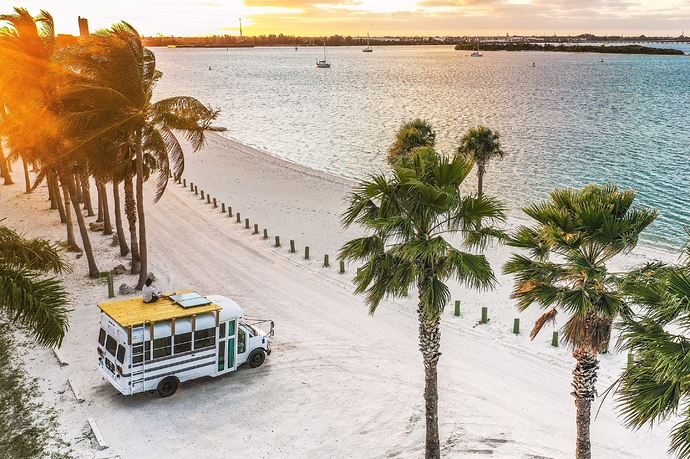 and enjoy the world!