Last week, after a couple years of consideration I finally purchased a 2011 Ford Econoline to build out an take my 5 year old son out on adventures. Over the last couple days Ive removed shelving and other storage items left from the previous owner. Tonight included pulling up the rubber flooring.
To my horror, the four bolts that attach the cargo area to the frame range from pretty rusty to extremely rusty. The floor in the area surrounding one of the bolts is wavy and uneven from rust. Ive included pictures below.
I dont know a ton about cars so I am looking for advice. Did I just by a junker? Is this something that can be fixed by a professional without blowing my entire build budget? I dont have a ton of extra money to fix a major problem, which is why i didnt go with a newer high top promaster. Super worried I have 5 years of payments on a junker. Any advice is appreciated.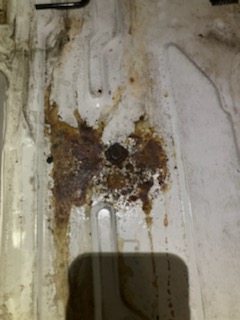 !