Hi all,
I've just purchased this Mercedes van with 35,000 mi on the engine. It's 8 years old, and was previously used (as her twin brother was) as a shuttle bus for workers - bringing them into the factory for work from the parking lot. It's a dually as well.
My first question: this metal flooring was probably pretty practical for moving people around. What are my rust odds lurking under there? I know it should be lifted to look for rust…but…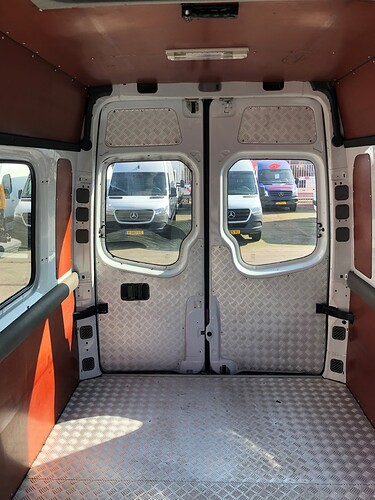 Second question - I know there are pros and cons to the dually wheels in the rear. My question is whether the suspension performance is improved by having them - or is it more a question of overall stability?
Last question (I promise)…I have heard other Sprinter owners talk about getting quite a bit of weight in their van (2500+) - far more than is recommended for my 2014 Sprinter L4L2. According to dealer specs - the van can only manage about 900 kg or 1984 lbs. That's not really a lot of weight…are these owners fudging the numbers or are the specs from the dealer mistaken, or (fill-in-the-blanks-here)…? Does the fact it was a passenger van make a difference?
Thanks one and all for any insight at all!!!
Cheers!