I just wanted to share my solution to privacy and toileting in my van. Because I'm not a builder, I am having to use no-build techniques where practicable. I saw this small tent in IKEA last night, measured it (never go to IKEA without a long measuring tape…) and purchased it. It is a small recycled polyester and steel tent 58 5/8" x 29" x 20". My Thetford is the 365 model. This fits very comfortably in my Sprinter. My toilet area is in the back of the van, away from the main "living area"…
So, I put it together this morning and this is what it looks like. I set my Thetford inside. There is room enough for myself, the floor is reasonably heavy-duty and the tent should help contain odors while providing me privacy when I need to use it. It is light, and not claustrophobic - and the best part is that is was €12.99 (approx. $13.00). There are tabs on the back to secure it to a wall - and I will probably used 3M Dual Lock for that.
The only change I made was to put furniture pads on the lower legs to provide a little extra protection to the plastic floor the from the legs themselves.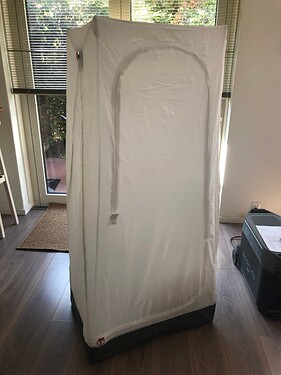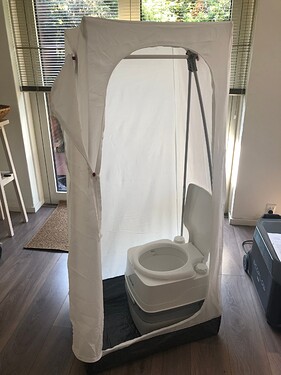 Happy to have solved at least one more piece of the puzzle.