Greetings from Australia!
Apologies if this has already been discussed, please send me the right way then. My 2017 AWD Hiace is en route from Japan and I'm planning out the layout. It's an LWB with a low roof and apart from occasionally serving as a camper, it will be my everyday car. Thus I'm after a very simple layout, like on the pics below, but instead of the kitchen I will have a second row of seats for the kids.
Question 1
Taken it's a low roof, I need to be very conscious about the dimensions. Are there any guidelines re the minimal/optimal numbers for:
bench height
bench depth
gap between benches
table height from the bench
LWB Internal dimensions
w: 1545
h: 1335
d: 2930
I'm the tallest in the family, 182cm. If I make the bench height 42cm, like our home IKEA couch, I would have a 4cm gap above the head when sitting straight. However I'd love to have an insulated floor, which will eat up 3-4cm (20mm XPS board + 1cm plyboard + vinyl) and an insulated ceiling, another 1cm. I'm thinking would making the bench say 37cm high make a big difference? We probably won't be sitting there for longer than an hour.
Question 2
I want to be able to fold the benches away to reclaim the floor space when needed. I.e. lift them up and fasten to the walls. I will also have doors on both sides and don't want them partially covered by the sticking out benches, so the main (dining) section of the bench will be circa 120-140cm long, plus an extra section to make it up to 180-185cm, either sliding or folding out, for bed time. See the pic below. Excuse my drawing skills!
I would appreciate any ideas on this, or perhaps you had come across a similar build. I've trawled around and couldn't find anything.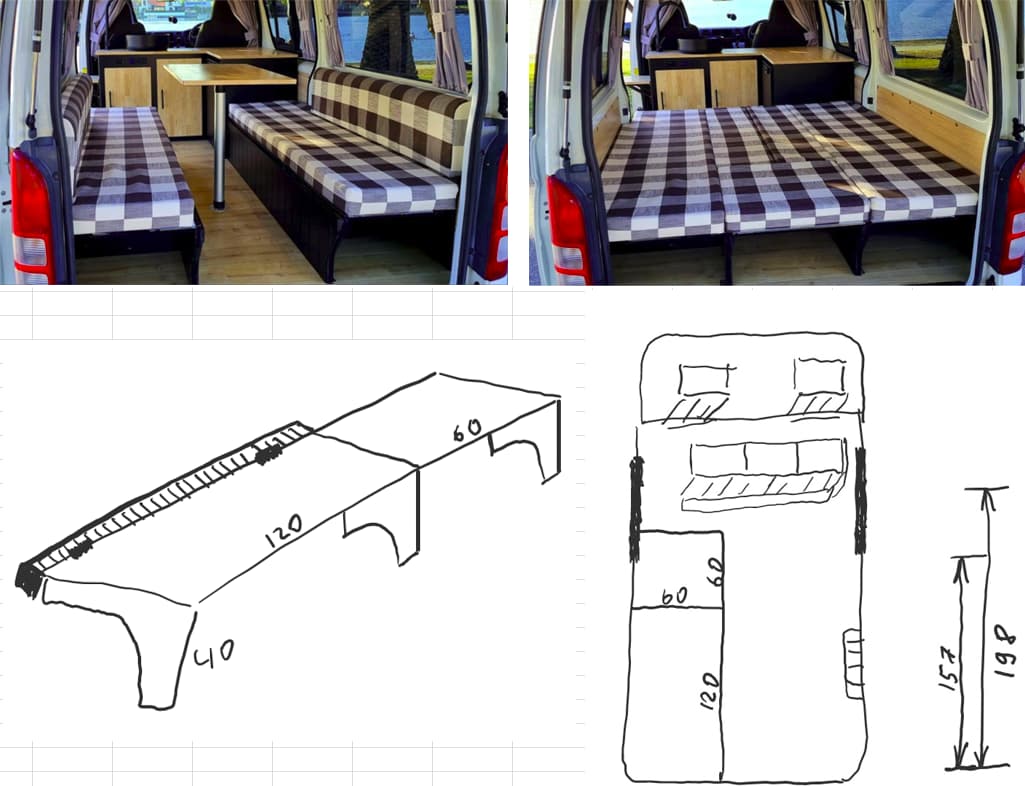 Thanks everyone,
Alex