Hi all,
For more information please do not hesitate to call/text 8582318320
I was so happy to finally join the community but unfortunately I must sell my newly converted van.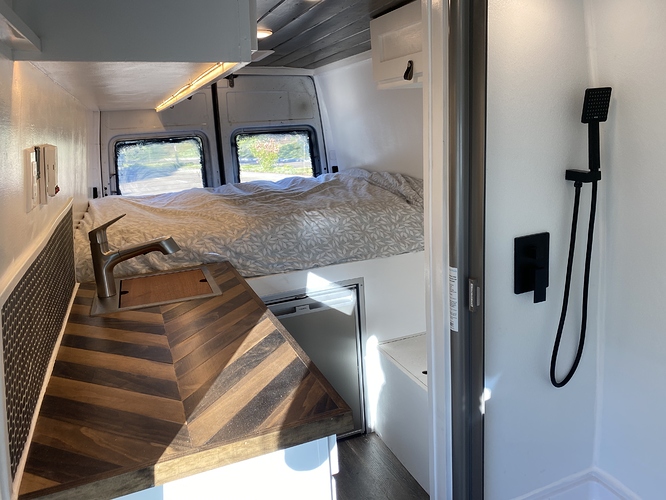 This is van you're looking for. Build was just completed. Everything works perfect and new. I intended to live in this full time to save on rent and work remotely. And travel with the kids. Told my ex what I had planned and did not go well. I ended up signing a lease and someone gets to enjoy this fully equipped van. It is perfect. It's the best time to make this change, save money on no rent or use it as a camper van with the family. A lot of jobs will become remote and continue to due to covid-19.
2006 Dodge sprinter 2500 158wb high roof available for sale in san diego
It's got only oneprevious owner, fleet maintained vehicle, 218k miles on odo, which is low for diesel engines. This 5 cylinder engines what been used in 02-06 known to go 500k with just regular maintanence. Super reliable 5speed tranny what can handle up to 1000pound feet of torque with this super reliable 5 cylinder 2.7l engine has made this generation of sprinters legendary. 158 wheelbase so far is the most desirable option thru a lot of campers. It has a great turning radius and huge amount of torque for its size.
Recent services:
New engine oil and filter change
New air filter
New cabin air filter
New fuel filter
New belt, tensioner, pulleys
New rebuilt transmission with waranty
New turbo resonator
New 5 glow plugs and module
New raptor paint job
AC just charged
High quality items installed:
Battleborn 200amp hours ($2000)
Dometic refrigerator ($1200)
Thinsulate and Lizard skin
Went over board with kilmat sound deadening and dampening also helps with insulation
Two maxx air deluxe fans
4 solar panels
3000w inverter
Indoor full shower
Two seat passenger bench( rare:if not needed can easily sell for $350-$400, and you can add more storage or a lounge area if desired)
30g water tank (mounted inside)
30g grey water tank
25g galley tank
Insulated shades for all windows and windshields($1000 +)
12v outlets (able to power a ninja blender and an instant pot)
I did not want any propane in the van which is why I had a robust electrical system installed. You won't run out of power.
Fold out table to get some work done
If ad is still up, it is available. Serious buyers only, no low ballers. Van has been sanitized and cleaned with Lysol wipes, commonly touched items in the van
Clean title in my name.
Please help me find a new home for this newly converted van.
Thank you so much,
Ryan