Just wanted to update everyone! We purchased a van!! We saw it on ebay, then Justin "accidentally on purpose" placed a bid a few minutes before it was about to end but was out bid. Then the next day we received an e-mail for a second chance to the last 3 bidders (So glad Justin accidentally placed that bid!!)! We went back and forth since we only has 24 hours to respond and the other 2 bidders could claim it and there wasn't enough time for a traveling mechanic because it was 4 hours away. Lots of risks but we went for it! We drove down Saturday to take look at it for the first time in person and bring it home. So far we are really happy with it! and it made the 4 hour trip back with no problem.
Some details: 2004 Ford E350 Quigley Conversion 4 Wheel Drive and a Lift.
I will post more pictures and info. on a new topic for the Build!

Seeing it for the first time!!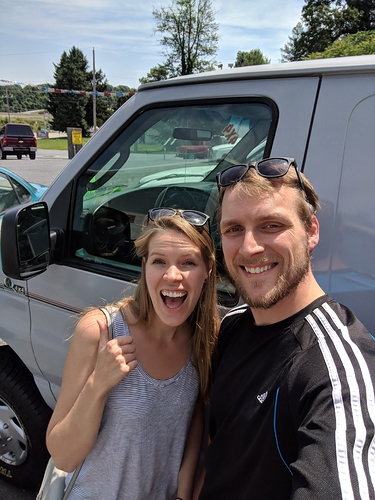 A couple of pictures from the Ebay posting: