Hey-o!
So I'm trying to have my full power setup done by the 1st of December but the Isolator is the last "great unknown" for us.
Three-part question.

---
1
I have a 99' Ford 7.3L Diesel that has dual vehicle batteries and dual alternators.
I'm unsure of the wiring layout or how dual alternators work, but am ASSUMING the very crude picture below to be accurate as far as the flow of electric is concerned.
So the question is, where do/can I connect the isolator? Is the "red X" in the picture accurate, or am I misunderstanding isolators?
Anyone with experience specifically dealing with dual alternators would be great because I'm not positive that they both go to the primary and then secondary battery. But as I understand it, regardless of the connections prior to the secondary battery or where the alternators are connected, both alternators charge both batteries so if I connected the isolator after the secondary battery then both alternators would continue their charge through to the battery bank, right?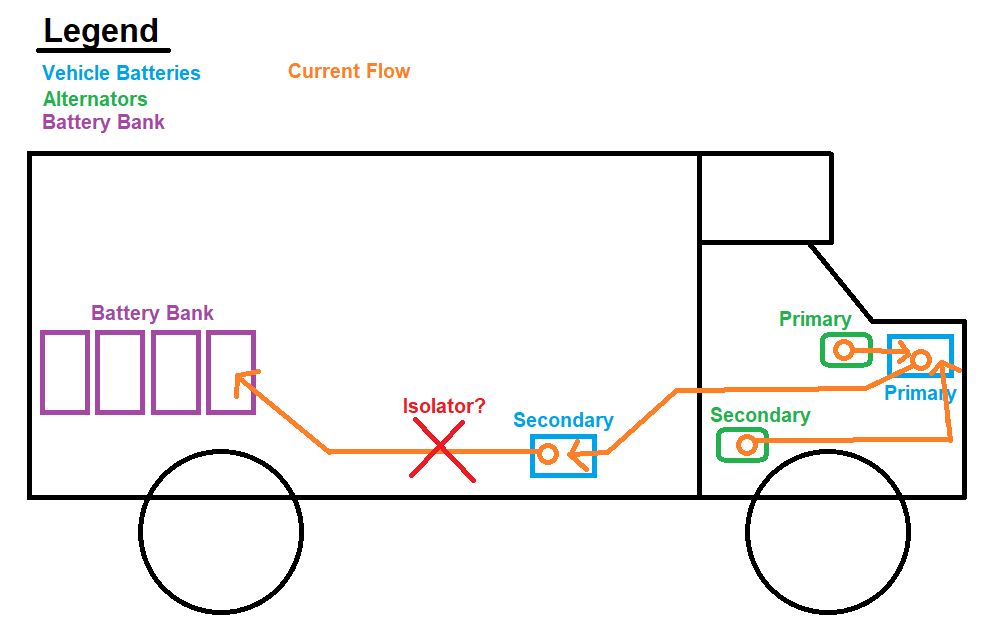 ---
2
Going a layer deeper, both alternators are (at least) 110 amp, so does that mean I can slap this guy on to get the most charge after my vehicle batteries are charged or should I use a lower amp one?
---
3
Going one more layer deep, if I can't use the above because my dual alternators don't generate enough power, could I upgrade my dual alternators to more powerful versions now available on the market and then use that isolator or an even larger one?
https://ktperformance.net/i-13691159-mean-green-high-output-alternator-ford-1999-03-7-3l-power-stroke.html
The "Mean Green" puts out 220 amps, so two would be 440 amps? Could I then get a 400 amp isolator?