Hey all! You've been asking for details on our ceiling mural, so here goes! We'll give you prices, links…what you'd need to get started yourself.
We originally lived in downtown San Francisco in the bus and wanted to bring some nature into our space. It ended up making the space feel much taller. In total it cost about $300 but took over 200 hours to paint.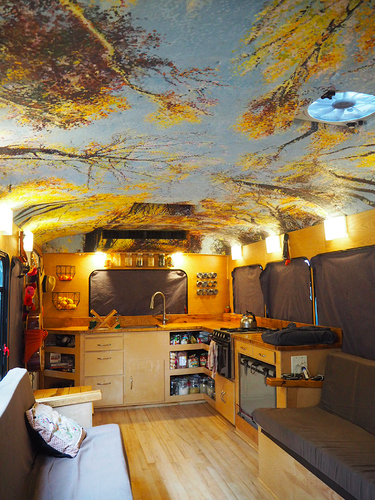 Dots…and more dots…I listened to every single Harry Potter audiobook while painting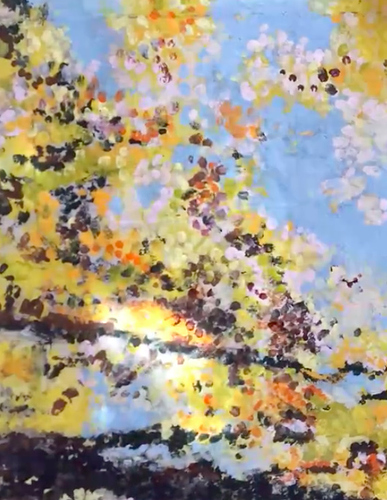 Materials:
Canvas drop cloths from Home Depot
Paint samples from Home Depot (by far the cheapest way to get lots of high quality paint)
Some Dollar Store brushes
It ended up being a cool community project, as friends who visited could add their own dot. More friends painting at Frequent Stops IG account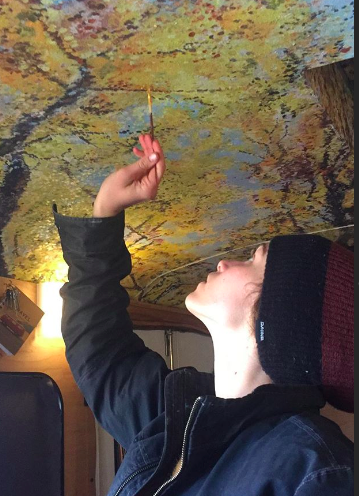 It caused me a lot of anxiety at first watching new dots go up where I wouldn't have chosen to put them, but luckily it turns out that it's pretty hard to make dots on the ceiling NOT look like leaves

We painted it on the ground, and to get it up, we put furring strips along the steel struts on our ceiling, and then used a pneumatic stapler and t50 staples every foot or so. We had to take it down at one point, and were stoked to find that the top hadn't molded at all.
This is something that you could very easily achieve even if you don't have the ability to paint it yourself. All you need to do is find a tapestry with the desired image.
Would love to hear if anyone else has tried something similar.
So that's the ceiling! Let us know what you think!