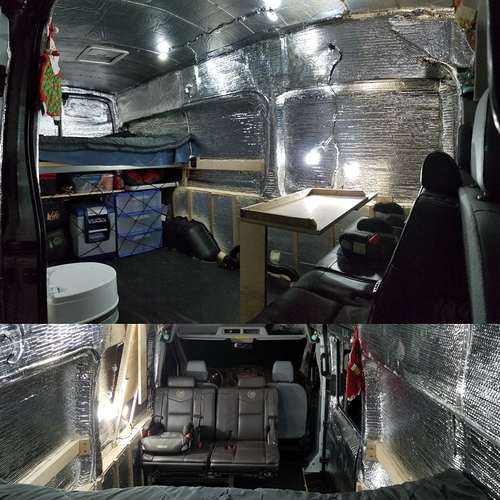 Hey all, we're selling our van! Turns out life and kids and work has left us without enough time to finish it. Please read below for details!
If you are looking for a new campervan, with a lot of the hard work done, email us! It's a fantastic set up for adventurous families or couples and is amazingly cozy and comfortable, and is a dream to drive. We did 6000 miles (9700km) this winter and were comfortable as all get out!
All the work is of professional design with the highest quality materials and craftmanship.
Here's the deets:
Asking $55k
2018 Ford Transit 350 EL HR (extended length, high roof)
3.5L Ecoboost (this engine is amazing)
8300 highway miles
Installed goods:
5 seats (rear seats are from a Cadillac and are fold-away, removable, and comfy!)
2" transitoffroad lift
BFGoodrich KO2 LT255/70R16 E tires
200W/200ah LiFePO4 solar system: Victron charge controller w/ remote battery monitoring (BT enabled), Blue Sea components, and custom plexiglass enclosure. Good for three days running time with no sun.
Propex 2200 propane heater
Exterior DOT 30lb propane tank
ATB Fridge Freezer- 50 Quart (absolutely sips power)
Full spray foam and reflectix insulation and strawfoot custom window coverings: ceiling: ~R20, walls: ~R35, floor/window wells: ~R10. We spent a week in Newfoundland over Christmas, with temps down to 5F (-15C) and we were super cozy!
Removable queen bed with custom mattress and MASSIVE garage below
Maxxair 00-05100K MaxxFan
Class III Curt receiver hitch
Extras (sooo many!):
Driver side forward vented window (FW293L by CR Laurence)
800 linear feet (244m) of 3" x 1/4" in 12' - 14' lengths (6mm x 7.6cm x 3.7m - 4.3m) clear top grade Poplar
Air Lift Quickshot Compressor System - Dual Path w/ Loadlifter 5000 Air Helper Springs (12v onboard compressor w/ 2gal air tank)
40gal fresh water tank
20gal over wheel well grey water tank
Flojet 03526-144A automatic triplex diaphragm water pump
8" Alpine powered woofer
6'/2m of hot air duct with 2 Y connectors
~150' (50m) of 18/2 wire
~20' (6m) of 10/2 wire
The van is in immaculate condition aside from a small dent in the rear driver side door and small crack in the front bumper.
Could also be a good option for a conversion company to take on, finish, and sell for a tidy profit!
Check out our Instagram for TONS more pics! @thevanjob