I'm starting this thread to share my planned upgrades to my camper van. It's a 1982 Dodge ram van with a fibre glass topper.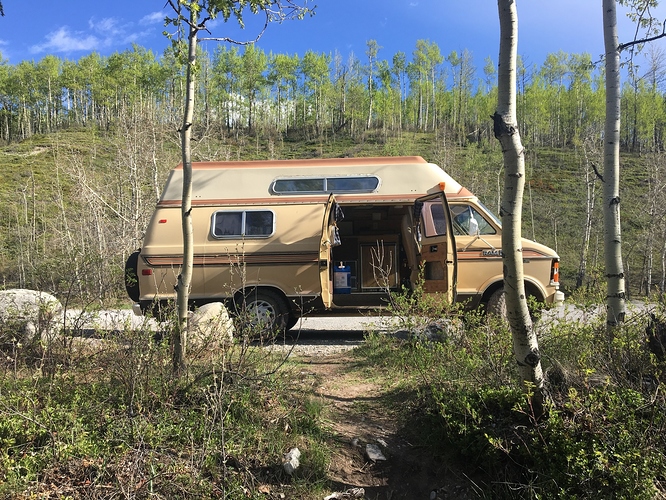 I'm not doing a total gutting or "build" of the van, which seems to be what most of the builds are on here. So I wanted to share my planned upgrades so that people know they don't have to do everything from scratch - or all at once!
My to-do list:
Buy and install new coach battery (old one was toast due to a short that I found and fixed)
Rip out old-old carpet (the original shag carpet is still evident inside the bottoms of some storage areas and is gross and dusty)
Rip out slightly newer carpet (main flooring area has a low pile carpet which looks to have replaced the old shag carpet) and small section of linoleum and lay down new flooring
Scrape off all old sealant around windows, clean and re-seal
Build compartment for the small toilet (needs to be secured or it slides around)
Build storage in the back/trunk area
Paint some of the surfaces to lighten up the interior (feels dark to me so some lighter paint should help with that)
Make window coverings with reflectix to help with keeping the van cooler on hot days
Replace the bed cushions with new foam and fabric
So that's what I need to work on! Or at least what I HOPE to achieve this summer… Winters in Canada will see this baby in storage - so I have to both use it for fun short trips this summer and also find time to do these upgrades.
Will try to post how I do things and photos of the process on here.
Wish me luck!
Edited: to add in the new bed/seat cushions I forgot to include!